What position should Ben Simmons play?
Ben Simmons is the Philadelphia 76ers' point guard. Ben Simmons probably isn't a point guard.
The season began with questions about whether Ben Simmons would play point forward or true point guard for the Philadelphia 76ers. As it turns out, Simmons has played true point the whole year.
Despite a successful rookie campaign, Brett Brown has recently questioned whether Simmons' future is at the one or the four, as touched on by Jessica Camerato:
"I think to anoint him 'you're only a point guard forever' is not in my mind. I think it's going to be a one (point guard) or a four (power forward), that's where I see him."
However, as Camerato points out, Simmons doesn't want to switch positions.
"Definitely a one, not four. I don't want to play a four. I mean, I'll play the four but I don't want to be predominantly in the four position because I feel like I can do a lot more from the point guard position, as you've seen."
Although Simmons sees himself as a one, a position change wouldn't take away from his strengths; it could actually highlight them while masking his weaknesses.
Highlighting his strengths
While Simmons can't shoot a simple jumper, he displays an impressive array of difficult hook shots and finishes at the rim. Putting Simmons down low would allow him to use his quickness in post-up opportunities and increase his touches close to the basket.
Simmons excels when he grabs the ball off a missed shot and runs the floor. Playing the four and spending less time covering perimeter players would put him in better position to get more defensive rebounds and lead more run-outs in transition.
A lot of Simmons' playmaking comes off the drive. If he could get more touches in the high post and even some in the deep post, he'll find many more opportunities to kick out to open three point shooters. He'll also create more openings for teammates, as he draws a double team down low but not on the perimeter.
Ben Simmons has been an extremely pleasant surprise on defense this year. While his defensive effort was questioned during his one year at LSU, he has been one of the Sixers best defenders. He has the versatility to switch onto almost any player, and he's put up monstrous steal and block percentages of 2.4 percent and 2.1 percent, respectively.
Switching to the four wouldn't take away from Simmons' switchability at all; he could still rotate onto any position. Spending more time down low would better put to use Simmons ability to contest shots at the rim and read passing lanes in front of him.
Masking his weaknesses
Simmons can't do much scoring from the outside. His only threat is to drive, and everyone knows it and is ready to bring a double-team. If he spent a higher percentage of his time in an area of the court on which he's a threat to score, he would get more scoring opportunities and quality shots.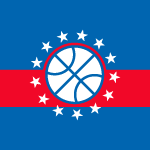 Want your voice heard? Join the The Sixer Sense team!
Write for us!
As a rookie, Simmons gets more touches than anyone else in the NBA. However, he struggles to make plays when he's covered tightly on the perimeter.
Playing at the four would take the ball out of his hands in situations where the defense brings pressure or the shot clock in winding down. Simmons could cut down on dribble mistakes and bad passing decisions if he didn't need to always be the one making a play in difficult spots.
Ability to create his own shot
While he has very good handles for someone his size, he's an not elite ball handler. He would get better shots off of post moves and basket cuts than operating from the perimeter. With Markelle Fultz set to return next season (maybe sooner), Simmons should work near the basket and let Fultz take on the role of primary ball handler.
Ben Simmons could develop into a true point guard, but for now he's probably better off as a point forward. It'll be interesting to see what Brett Brown decides to do.