3 reasons the Philadelphia 76ers will be the most exciting team in Philly
The Philadelphia 76ers will be the city's most exciting team next season.
We are now in deep in the thick of the long grind that is the Summer Sports Season. The once frantic NBA offseason has died down, and teams are starting to get a true idea of their roster for next season. As the Phillies struggle to live up to expectations across the parking lot from the Wells Fargo Center, Philly fans are waiting anxiously for something exciting to happen.
The good news for the supporters of the City of Brotherly Love is that there is a light at the end of this dark nine-inning tunnel. That light is another season of Philadelphia 76ers basketball. This team is not just any other group however. They have the outlook of true championship contenders, and almost as important, they will be fun to watch for three reasons.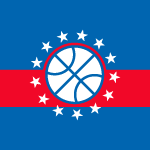 Want your voice heard? Join the The Sixer Sense team!
Write for us!
3. They're good
Obviously nobody wants to watch a bad team, and Philly fans, more than most, know not to take the really good ones for granted. Looking at the city throughout the years, true championship contenders have been few and far between. With the mediocrity of the Phillies and the Flyers, combined with the many unknowns of the NFL season, the Sixers look to have a better shot than any to raise some banners.
Elton Brand and company have revamped the team with arguably the best starting lineup in the NBA to go along with sneaky good depth acquisitions such as Raul Neto and Kyle O'Quinn who join the remainder of last season's bench. It is hard to find a power ranking that doesn't list the Sixers in the top three to five, and in this new-look NBA anyone has a shot.