Philadelphia 76ers: Does history say Joel Embiid or Ben Simmons need to be traded?
Showtime: Magic Johnson and Kareem Abdul-Jabbar
Has there ever been a more famous fastbreak than the 'Showtime' offense of the Los Angeles Lakers in the 1980s.
Ben Simmons is not the first really tall super-athletic point guard who loved to push the ball.
First, there was Earvin 'Magic' Johnson.
He was listed at 6-foot-9, 215 pounds and he was almost unstoppable on the fast break. The Lakers surrounded him with gazelles who could run with him on the break like James Worthy, Jamaal Wilkes, Michael Cooper and Byron Scott.
Before his career was cut short in 1991 by a diagnosis of HIV, Johnson was a 12-time All-Star and led the Lakers to five NBA championships (including twice over the Sixers in the finals).
Like Simmons, Johnson could move from the point to center. He famously did it in Game 6 of the 1980 NBA finals, leading the Lakers to a series-clinching win over the 76ers at the Spectrum.
Also like Simmons, Magic was not much for shooting outside. For his career, he only averaged 1.2 three-point attempts a game and, in his first nine seasons, shot below 22 percent. If there is a positive note for those people hoping Simmons will eventually learn to hit a jumper, Johnson shot over 30 percent and attempted a lot more threes in his final three years.
Although it was exciting, the Lakers did not rely entirely on 'Showtime' to produce points. They had a really, REALLY good Plan B when opposing defenses were able to stop it: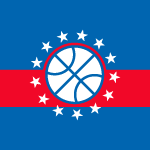 Want your voice heard? Join the The Sixer Sense team!
Write for us!
Unquestionably one of the top centers of all-time, the 7-foot-2, 225-pounder made the All-Star Game an amazing 19 times and All-NBA 15 times.
Abdul-Jabbar featured one of the greatest post-up moves in history, the skyhook.
It was virtually a unblockable shot and Kareem had plenty of other ways to score when he got the ball inside. And he was pure post presence. The three-point shot was instituted for the final 10 years of his career but Abdul-Jabbar attempted just 18 three-pointers (making one).
The Lakers offense was pretty simple during the Johnson/Abdul-Jabbar era. After a missed shot or turnover, Magic would push the ball. If he was stopped, he would bring it back out and you would see the large frame of Abdul-Jabbar loping into the picture. Kareem would take his place in the low post and await the entry pass, or be used as a decoy as, in the halfcourt, he would be the focus of the defense.
So the Lakers were able to quite successfully have a non-shooting fast break-oriented point guard paired with a center who was most comfortable in the halfcourt.