Disney World return negates Philadelphia 76ers' biggest strength
The Philadelphia 76ers will lose one key advantage in Walt Disney World.
At this point, the NBA's return seems inevitable. The timeline is still in flux, but at some point, the 2019-20 season is likely to resume in Orlando on the Walt Disney World campus. This is mostly good news. Basketball!
For the Philadelphia 76ers, however, such circumstances are not ideal (beyond the obvious misfortune of the coronavirus pandemic at large). If the season resumes in Orlando, the Sixers will lose arguably their biggest advantage in a potential championship pursuit — the home crowd.
The Sixers are a deeply flawed and strangely enigmatic team. It's difficult to get a proper read on just how competitive Philadelphia is, not to mention how certain factions of the roster will perform in a higher-stakes environment. The Sixers' most consistent performer has been the Wells Fargo Center.
Philadelphia is 29-2 at home this season. That is historically good — a 93.5 percent rate of victory when nestled in the warm blanket of Philly sports fandom. The Sixers are conversely 10-24 on the road, which aligns more with the league's worst teams than the league's best teams.
For reasons only the divine can know, the Sixers have developed a total apathy for made baskets on the road. The Sixers' three-point percentage plummets, the offense stalls, and someone flips the switch on Brett Brown's seat warmer. The Road Sixers are not contenders. The Home Sixers are.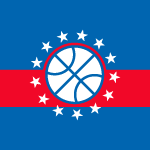 Want your voice heard? Join the The Sixer Sense team!
Write for us!
In Disney World, the Sixers will no longer have the luxury of a home crowd in at least three of seven potential games in a hypothetical postseason series. There is a slight silver lining — no away crowds either — but it's well within reason to doubt the Sixers' ability to contend at a neutral site.
The Sixers' issues all tie back to roster construction in some form or fashion. Elton Brand and the front office decided to prioritize size over shooting, which isn't the right move when a) you employ Joel Embiid and Ben Simmons, and b) it's 2020. Alas, even with the Sixers' title chances irrevocably harmed by a haphazard hodgepodge of a roster, their success at home was a shining light. A beacon of hope that's no longer visible.
It is far too early to write referendums on the 2019-20 Sixers, but the regular season did little when it came to instilling a sense of optimism in Philadelphia. If the season moves away from the city entirely, then the Sixers may already be dead in the water.