GRADES: Indiana Pacers 127, Philadelphia 76ers 121
Philadelphia 76ers basketball is back! And as hard to watch as ever.
After months and months of waiting, we finally were able to watch a Philadelphia 76ers game that mattered again. What we were greeted by was exactly what we should've expected. A frustrating display of basketball. Maybe we shouldn't have been excited after scrimmages…
A very nice outing from Joel Embiid was thwarted by the absolute barrage from T.J Warren, whose 53 points ruined the 76ers' return to somewhat normality. It was a night of typical Philadelphia basketball. Too many turnovers, and the one job was to stop one man and it just couldn't be done.
Let's take a look at who played well and who didn't.
JOEL EMBIID
C,
Philadelphia 76ers
A+
`| 35 mins | 41 pts | 4 ast | 21 reb | 3 blk | 1 stl | 15/23 FG | 1/5 3pt | 10/12 FT | 4 TO | 3 PF | +21 |
Joel Embiid was completely and utterly dominant on all sides of the basketball tonight. Putting up a near career high in points with 41 and an astounding 21 rebounds. He added onto this with three blocks including. Withput a doubt Philly's best player in tonight's loss.
TOBIAS HARRIS
SF,
Philadelphia 76ers
A
|36 Mins | 30 pts | 0 ast | 8 reb | 1 blk | 1 stl | 12/29 FG | 3/8 3PT | 3/3 FT | 0 TO | 2 PF | +0 |
Tobi had himself a good outing tonight. Pouring in 30 points, albeit on 29 shots, was helpful to the team tonight. He held his own on the defensive end and with getting boards. He shot pretty well, including a clutch 3.
BEN SIMMONS
PF,
Philadelphia 76ers
B
| 38 mins | 19 pts | 4 ast | 13 reb | 0 blk | 1 stl | 8/14 FG | 0/0 3PT | 3/6 FT | 4 TO | 5 PF | -11 |
On paper, this isn't a very good game relative to what we expect from Simmons. However, when you dig deeper, you realize the team is nowhere close to even being in the game without his contributions. He had a great night scoring, dropping 19 points. He also had a fantastic night on the glass, reeling in 13 rebounds. No 3s were shot, however, which may be a disappointment to some.
SHAKE MILTON
PG,
Philadelphia 76ers
F
| 19 mins | 0 pts | 3 ast | 1 reb | 0 blk | 0 stl | 0/1 FG | 0/1 3PT | 0/0 FT | 3 TO | 5 PF | -3 |
I truly have no words. An abysmal performance in his first "real" game as the team's point guard, Shake failed to show up. He couldn't score a single point, he had five fouls, and it might have been better had he not showed up at all. An awful show of basketball from a usually promising young guard.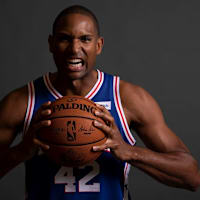 AL HORFORD
PF,
Philadelphia 76ers
B
| 22 mins | 10 pts | 2 ast | 6 reb | 1 blk | 0 stl | 4/9 FG | 1/1 3PT | 1/1 FT | 3 TO | 3 PF | -26 |
This was a pretty nice performance from Big Al, despite the poor plus-minus. He played his position very well and certainly passed the eye test. He had a nice jumper going for him along with an epic under the basket spin move, which resulted in a jam. This is what fans should expect from him in these seeding games.
There has to be something fixed by the next game if this organization expects a championship run. Fewer turnovers, capitalize on the opponent's mistakes more, and so on.
As stated previously, Embiid was phenomenal tonight and carried the team, per usual. He also had an epic one-hand reverse jam, followed by a perfect celebration.
The 76ers' next game is on Monday, August 3, when they will take on the San Antonio Spurs.