Philadelphia 76ers are the Eastern Conference's wildcard
The Philadelphia 76ers are a wildcard in the Eastern Conference this season.
Every upcoming season NBA journalists, pundits, insiders, purists, and junkies all discuss who are the teams or players that the viewing public should watch for throughout the 82-game campaign. This year is no different for the Philadelphia 76ers, although life has surely become different since February of 2020.
In the 2020-21 season, the wildcard team of the Eastern Conference is clearly the Philadelphia 76ers. No other ball club has so much potential abounding. However, the team could go either direction and there are recent examples in NBA history of this happening.
A few years back, many were talking about something brewing in the Bay Area with the Golden State Warriors in 2014 after their playoff exit. Yeah, they lost to the San Antonio Spurs that year, but the future was bright. We all know what happened next. The Warriors dynasty was born a year later and dominated the last half of the 2010s.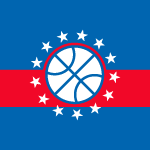 Want your voice heard? Join the The Sixer Sense team!
Write for us!
Sometimes, that isn't the case, however. Take the Washington Wizards for instance. A young John Wall with a then-younger Bradley Beal with a loaded team offensively and defensively was primed to take the next step.
Everyone with a seeing-eye could see it coming, but consecutive damaging injuries to Wall in the playoffs in 2014 and 2015 snuffed out any chances of Washington reaching those heights. A clearly better Wizards team was bounced both of those years and they've never recovered from it. Beal has become an elite shooting guard since, but that ship of potential has sailed.