Sixers: Why the Ben Simmons saga ends soon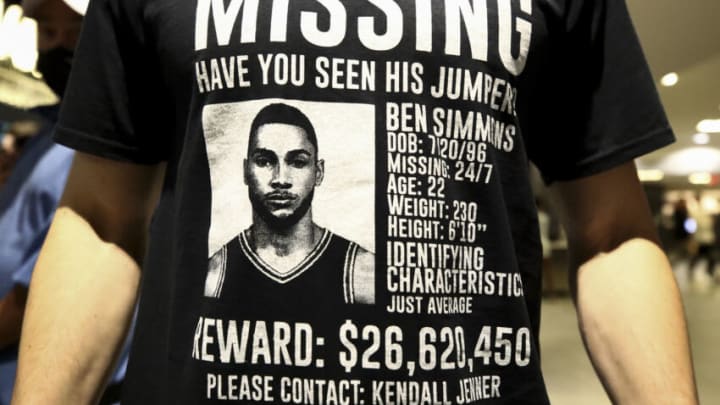 (Photo by Tim Nwachukwu/Getty Images) /
Daryl Morey has been on record saying this Ben Simmons "Process" could take up to four years. The issue with that statment is that Joel Embiid needs to win now. His body is telling him so. As the Sixers have fined Simmons over $6 million so far, this saga is coming to an end shortly. Doc Rivers is not going to continue to lose games because of a guy who doesnt want to be here.
At some point before Christmas, I predict this will all be situated. Simmons' stance right now is that he will play in OKC if it means he's not in a Sixers uniform. Ben is not only altering his carrer but playing with his money. Rich Paul (his agent) wont be able to fleece the sixers for much longer, as the team continues to crack down on their fines.
Why the Sixers' Ben Simmons saga will end sooner than later
The Sixers have fleeced themselves in the past with poor draft selections. Rookie Jaden Springer has yet to see the floor or do anything significant, Zhaire Smith is out of the league, Markelle Fultz couldn't even shoot, and Simmons won't even show up — the list goes on and on. They are running out of options to give Embiid a shot at a title. This Simmons saga is going to end sooner than you think with the sixers sitting at 13-11 and sixth in a loaded Eastern Conference, it may be time to stick the flag in the ground and surrender. Sooner rather than later.
Buddy Hield and anybody for Ben Simmons is an immediate upgrade, even though its a role player in return for a potential star. That is where Daryl Morey is running into a wall. He can't get over Simmons' resume, and can't fathom that he willl not get equal value or more in return as he's used to doing. (AlHorford-Danny Green) (Josh Richardson-Seth Curry).
But let's be real — who can fathom all that but it is reality. That being said, while him saying this could take up to four years is completely realistic and makes total sense, he is bluffing. Morey would be left without a job if Simmons is still on the roster by the start of next season. Like I alluded to earlier, the Sixers aren't getting any better anytime soon. Getting rid of Simmons puts them one step closer to being a title contender. Or if he actually comes back and plays like we know he can, but that's not reality — he won't. Or at least I don't believe he will.