Possible Sixers and Andre Drummond reunion in the offseason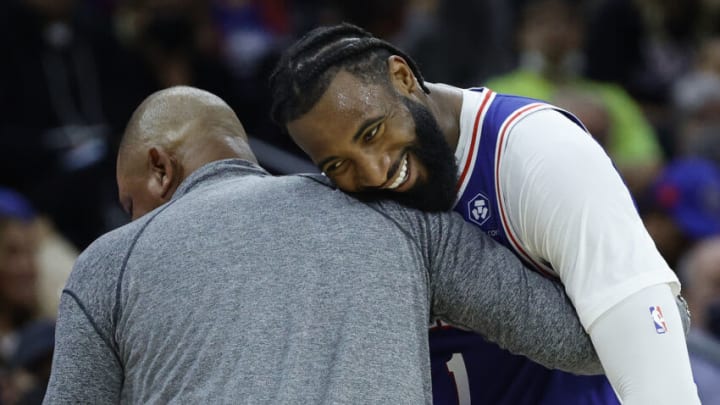 Andre Drummond, Sixers (Photo by Tim Nwachukwu/Getty Images) /
The DeAndre Jordan and Paul Millsap experiments haven't gone well for the Philadelphia 76ers. Both players are past their primes and have major weaknesses in their games at this point in their careers to be viable options as the backup center on this team.
On top of that head coach, Doc Rivers is almost outright refusing to play young big men like Paul Reed and Charles Bassey. The worst part of all this appears to be holding pattern for the rest of this season and playoffs.
Don't worry Sixers fans, because there's hope in the future. The 76ers can upgrade the position during the offseason and there's a familiar face they could pursue. That's none other than Andre Drummond.
Possible Sixers and Drummond reunion could happen this offseason.
The easy question to ask is why would Drummond come back to Philly after being dealt to the Brooklyn Nets at the NBA Trade Deadline? Especially when he was a backup for the first time in his career as a member of the Sixers.
There are three factors to why he would come back to the 76ers this upcoming offseason. The most important being he's already made it clear that he's only in Brooklyn for the rest of this season, per Kristian Winfield of New York Daily News. The reason for him not staying on a contender like the Nets is simple, they can't pay him the money he could make on the open market.
There's no denying that last year was probably the worst one of Drummond's career when he was essentially deactivated by the Cleveland Cavaliers and looked awful for the Los Angeles Lakers. However, he's had a great year first as Joel Embiid's backup and now the starting center with the Nets.
Does that mean he's going to get a max contract as he did with the Detriot Pistons? Absolutely not, but he could probably get somewhere around the mid-level expectation (roughly about $9-10 million).
Philly currently has Danny Green in that slot but his contract for next year isn't guaranteed. While Green has been solid, his contract value is more of that at the minimum contract versus a mid-level exception now based on his production. The Sixers could waive him and fill Drummond in that spot.
It also helps that Drummond has a great relationship with Rivers off the court (per Ky Carlin of Nets Wire) that could surely help the Sixers' chances to sign him again this summer. However, the biggest knock against the 76ers is the size of the role he could have. Others teams could offer him a starting role that should interest him.
In short, the Philadelphia 76ers should be on Drummond's list of potential landing places, but it's far from a concrete destination for the former All-Star.