3 NBA Draft prospects who would really help the 76ers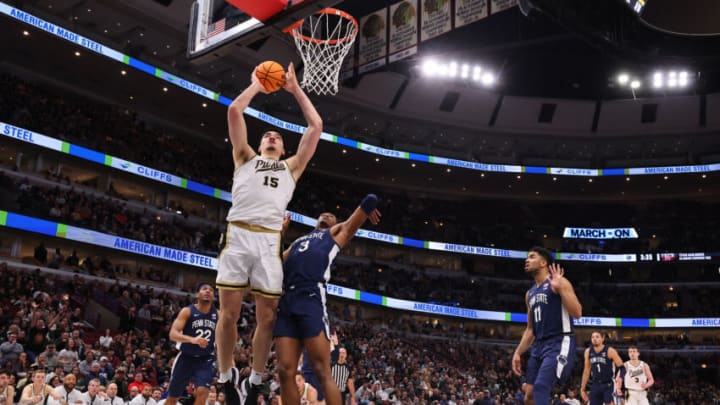 CHICAGO, ILLINOIS - MARCH 12: Zach Edey #15 of the Purdue Boilermakers shoots against the Penn State Nittany Lions during the Big Ten Basketball Tournament Championship game at United Center on March 12, 2023 in Chicago, Illinois. (Photo by Michael Reaves/Getty Images) /
Mandatory Credit: Jeff Blake-USA TODAY Sports /
The Philadelphia 76ers currently own zero picks in the 2023 NBA Draft after the NBA's tampering investigation into the signings of P.J. Tucker and Danuel House Jr. For that reason, the Sixers fandom has (quite justifiably) been more focused on the immediate outcome of this very important regular season, and less bothered by what may or may not happen in June.
Even last season, the Sixers traded away their first-round pick in favor of a win-now piece. The title window for Joel Embiid and James Harden is right now, and it may not be open much longer.
That said, it would be wise to keep tabs on the 2023 NBA Draft class — bustling with talent at the top and fairly deep as far as potential second-round and undrafted contributors go. It's not hard to trade (or buy) a second-round pick, so it wouldn't be shocking to see Philadelphia move in if the right prospect is available.
5 NBA Draft prospects the 76ers could target
For the purposes of this article, we will focus on projected second-round picks or undrafted free agents. Philadelphia could swing a bigger trade for a first-round pick, but with a slew of impending free agents and no imminent pivot toward youth, one has to believe the Sixers won't trade a legitimate contributor for draft capital.
Emoni Bates
This would be a fascinating upside swing for the Sixers. Once a projected top-10 pick, Bates has fallen by the wayside on many draft boards. Playing for Eastern Michigan, a school very few everyday basketball fans care to watch, Bates has been every bit the prodigious scorer draftniks once expected him to be.
He's not without flaws, but Bates is a 6-foot-9 wing who can score fluidly off the dribble and regularly hit difficult shots. His efficiency has been a roller coaster for EMU, but he would have the profound benefit of playing off of Embiid and (hopefully) Harden in Philly, which would naturally place him in advantageous positions.
The Sixers would probably assign Bates to the G-League for the majority of his rookie season, where he would get plenty of on-ball scoring reps while also polishing up the fundamentals of his game. If Bates can provide reliable 3-point shooting and versatile defense, that alone could be enough to help him stick in the NBA. The flourishes of go-to scoring are the cherry on top at that point.
For Bates, the primary concern with respect to his ceiling is a lack of explosiveness. He's comfortable handling the ball, often snaking his way through the defense for elevating into a pull-up jumper. But, a lot of Bates' efficiency woes are tied to his inability to get much lift off the ground on finishes at the rim. His ability to adjust to NBA length and athleticism will be make-or-break.