What The Sixers Should Learn From The NBA Finals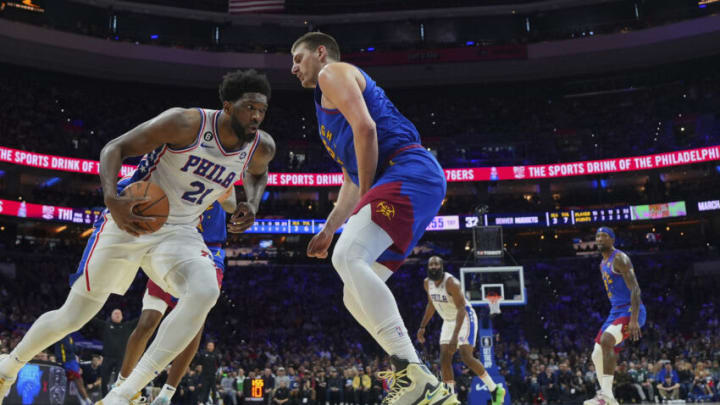 (Photo by Mitchell Leff/Getty Images) /
The 2023 season concluded with Nikola Jokic and the Denver Nuggets prevailing over the Jimmy Butler-led Miami Heat. Either way, this was going to be a very painful finale for Sixers fans given the two players involved, but sometimes, it can result in valuable information. The Sixers have an incredibly tough offseason ahead of them and should use this series to help them make key decisions.
It's a two-star League and fit is key.
Unless there is a dynasty brewing, which clearly is not the case in Philadelphia, every successful team seems to build around two guys and fill out the rest of the team with quality role players. Whenever there are more stars, only two of them can truly shine anyway which leads to an overpaid third star playing like a role player. Given the current trio of Joel Embiid, Tyrese Maxey, and James Harden, a big decision needs to be made.
Most importantly with the two-star setup, the two stars need to fit well together and have no doubt about their ability to be the best two players on a championship-level team. Jamal Murray rose to the occasion in the playoffs, playing better than both Embiid and Harden and yet he was not even the best player on the Nuggets. That is unacceptable and shows how far away this Sixers team is away from contention. Jokic and Murray are also a perfect fit together. Similar to Tyrese Maxey, Jamal Murray is not a natural playmaker despite being a point guard, but Jokic is an all-time passer to make up for it.
Harden and Embiid play at a snail's pace, while Tyrese Maxey is one of the fastest players in the league. Embiid likes to post-up and face-up, while Harden wants the ball in space or with a rolling big. One thing they do have in common, however, is disappearing in crucial games. Something needs to change for this team to win a championship.
This talented trio does not fit well at all, and while it is nice to have multiple ways to attack a defense, the poor fit is holding back Embiid and their potential postseason success.
Even though he needs to step up, Embiid is still clearly the team's only hope of doing anything special and the Sixers have not done him many favors over the years. The players that have fit best with Embiid since he joined the team are Jimmy Butler and J.J. Redick. That was in 2019 and the organization has refused to surround him with complementary players ever since. Seth Curry was close, but even he was not on the same level as the two previously mentioned players.
Meanwhile, the Nuggets have surrounded Jokic with shooters, defenders, and cutters to fully unlock his offensive potential while simultaneously masking his defensive warts. The same goes for Miami as they were able to make two runs to the finals over the years, despite a lack of talent because the team fits incredibly well around Jimmy Butler and Bam Adebayo.
The Sixers are only going as far as Embiid takes them, so they need to get some shooters that can move as well as a playmaker (preferably one that does not stand around and dribble the ball lethargically for twenty seconds before dishing it off to someone else) to fully unlock this team's potential.