The Sixers should explore a trade for Lauri Markkanen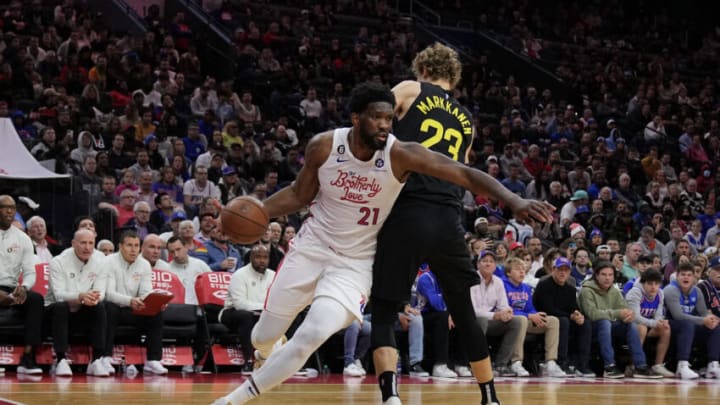 Joel Embiid, Sixers (Photo by Mitchell Leff/Getty Images) /
The Sixers are off to an impeccable start. This outcome seemed unfathomable a few weeks ago, but with how well the team is playing, in addition to the assets the team acquired for James Harden, the Sixers may very well only be a piece or two away from being a serious contender.
Zach Lavine, Pascal Siakam, and O.G Anunoby have all been mentioned as potential targets. Though they all would be solid additions to the team, they have a major flaw: their contracts. Lavine would take up any potential cap space the Sixers have been prioritizing, while Siakam and Anunoby are expiring and primed for a major payday.
Amongst all players who may end up on the trade block this year, there is one that stands out as both a quality starter and a bargain of a contract that would leave the Sixers plenty of cap space for the following season: Lauri Markkanen.
The Utah Jazz are one of the worst teams in the league so far, and while Markkanen has not been linked to any trades yet, it is logical to think the Jazz could move him at the height of his value in a rebuilding year. The offseason acquisition of John Collins could also be a sign of this, as he and Markkanen play the same position. The pair do not fit together at all.
Danny Ainge is famous for trading players at the height of their value.
Rudy Gobert, Donovan Mitchell, and Isaiah Thomas are just a few examples of that. The downside of that is the Sixers potentially getting swindled for Markkanen. Similar to how Masai Ujiri operates, Ainge will likely have a high asking price that could thwart the Sixers' plans.
Is Markkanen worth multiple first-round picks? It remains unclear. Two years ago, it would have been an insane overpay for Markkanen. He was a solid role player at best. His All-Star season last year that concluded with him winning the NBA's Most Improved Player award could very well have been a product of Markkanen being the number-one option on offense for a lottery team.
Despite all of these concerns, Markkanen is a lethal, high-volume shooter who would fit extraordinarily well with Joel Embiid and Tyrese Maxey. Shooting is a premium in the NBA and teams can never have enough of it. Aside from the shooting, the quick decision-making and scoring prowess would also be useful for a team that has a history of stalling out on offense in the playoffs.
The biggest advantage to Markkanen remains his affordable contract.
The Sixers could match salaries by offering Marcus Morris and Jaden Springer alongside picks, which allows the Sixers to avoid trading an actual rotation player such as Tobias Harris in trades for more expensive players. The following year, it would allow the Sixers to outright sign O.G Anunoby, Pascal Siakam, Paul George, Kawhi Leonard, Jrue Holiday, or whoever may be their desired target.
This course of action would make the Sixers a serious contender for years to come. Free agency luck is always tough to rely on, but the Sixers have cap space and two legitimate stars to entice a big free agent. Adding Markkanen to the mix allows the Sixers to bolster their title chances this year, as well as the future.